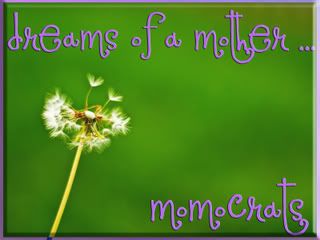 I'm not big on Mother's Day. Or Father's Day. Or Easter, for that matter. I love Christmas, and I find Halloween and Valentine's Day charming. And there's a certain majesty about Memorial Day, especially if there's a parade.

But Mother's Day? It feels both fraught, and insincere. It took too long for us to become parents, and so there were all those years when I wasn't someone's mother. And it seems so much like a Hallmark holiday - a construct foisted on us by card companies and florists and local garden centers.

But I know, I do know, that Mother's Day wasn't actually invented by Hallmark. In fact, Julia Ward Howe wrote the Mother's Day Proclamation in 1870 as a pacifist reaction to the Civil War. So really, Mother's Day ought to be about something more than breakfast in bed and last minute gifts - though I did quite like the marigold seedlings in a handpainted pot that came home from daycare.

Leave it to the MOMocrats - they're writing about their dreams, dreams for a better tomorrow, and encouraging others as well.

My own mother is dying of lung cancer. She's not going to get to watch my child grow up. My step-sister just died of ovarian cancer. She doesn't get to grow old or know grandchildren. WhyMommy is cancer-free, but still beat from treatment. I hope, I dream, that in my lifetime, we find better ways to eradicate cancer. Chemotherapy and radiation are barbaric therapies - blanket poisoning of the body in hopes of killing the tumor cells.


My sister will participate in her third Relay for Life next month - raising money for the American Cancer Society. I will support her effort; won't you join me and help her to meet (or beat) her $1500 goal? She's halfway there - click here or on the button to get to her Relay page.

And maybe, just maybe, it'll be better in the future. I hope.