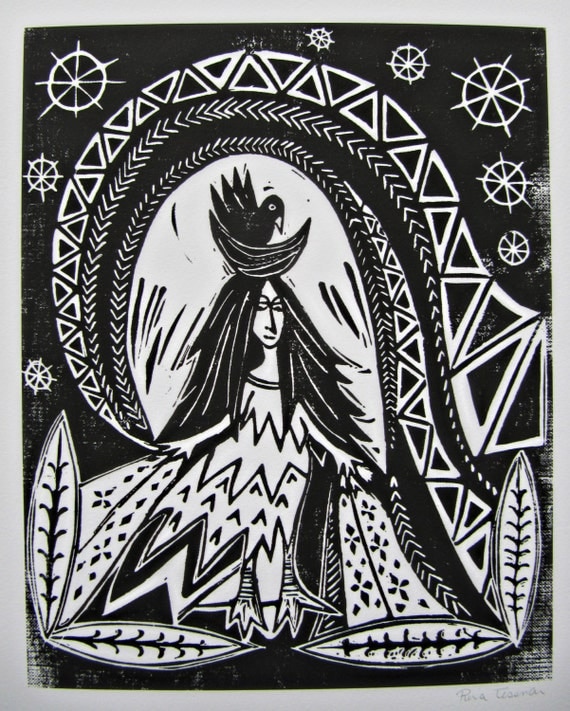 I can't put a finger on why I love this image so. Is it the chicken feet? The magical triangles emanating from her fingertips? The bird on her head (which I like to think is a magpie)? Was I Lithuanian in another life?

It's a Lithuanian man-eating wood nymph, says Rima, but I can't help but think of Baba Yaga - she who flies around in a mortar and pestle and lives in a hut that stands on chicken legs. I always loved that story - but Baba Yaga isn't Lithuanian. Granted, in the case of Baba Yaga, it's her house that has the chicken legs, not the lady herself.

Come to think of it, the moving castle in my favorite Miyazaki movie also moves on chicken legs. So maybe it's just that I have a great affection for chicken legs, chicken feet? I know I always want to take a picture when I spot a tray of them in the Asian grocery store.

Hmm.


In my kitchen, I have my mother's mortar & pestle. Where she got it, I don't know - maybe family, maybe a flea market. But it's cast iron, with shapely mortar well suited to the hand, and a barbell-shaped double-ended pestle. Grinding spices in it sets up an industrial musical hum, and I think of Baba Yaga beating her pestle against her mortar - "fly faster!" she says, "we've children to eat!"

Rima's wood nymph, Howl's moving castle, my little mortar & pestle - disparate notions, yet so oddly interconnected. My mind is a weird place.